Many Mothers & More chapters throughout the country hold monthly book club meetings. So, what are the key factors in having a successful book club?
Let's take a closer look at Maplewood/ South Orange, New Jersey, one of the largest book clubs with 10-20 members attending each month, and Milwaukee West, Wisconsin, which has discussed 155 books during its monthly meetings since 2002.
Make it a Community Effort
"I love the book club because I get to read books I would never have selected for myself," observed Pamela Finberg, who has coordinated Milwaukee West's book club for many of the 15 years that she has been a member of Mothers & More.
At both Maplewood/South Orange and Milwaukee West, all members are involved in nominating and voting on books 4-6 months in advance, hosting the meetings in their homes, bringing food and drinks and participating in the discussions.
Follow a Framework for Organizing and Leading the Club
Marianne Lloyd, a book club coordinator for Maplewood/South Orange, has found that having someone lead the book club helps to keep it organized and healthy. "I really appreciate Sue Bottino's leadership. She created a solid framework for our book club, which we have continued," Marianne said.
Similarly, Pamela keeps the records for Milwaukee West, logging books, members who host, attendees and the descriptions of the books read and nominated. She'll call and check in if someone hasn't participated in a while. Both leaders ensure that members participate in all aspects of the book club.
Advertise Book Club Meetings in Advance
Knowing the book selections 4-6 months in advance helps book clubs to advertise and gives participants plenty of time to read. They also let members know where to find the book. They advertise through their online networks, newsletters, chapter calendars and websites. When creating the schedule, they both have a set meeting time each month and take into account busy holidays and slow summers.
Keep it Focused
"We are casual," Pamela explained," but we take it seriously." Marianne agreed, "After the potluck social, our leader helps us to stay focused and discuss the book." Members are not required to read or finish the book (although it helps for a better discussion). They just need to understand that there may be spoilers if they haven't finished. There is no pressure. Pamela admitted that even she sometimes speed reads towards the end of the book to finish in time.
Keep it Fun
Spending 30-45 minutes at the beginning of each meeting to socialize is critical. Milwaukee West sometimes incorporates the book theme during the social time, such as serving Kir and French food for a book set in France. The winter holidays and January can be challenging since everyone is so busy. Hence, Maplewood/South Orange selects shorter books in December and January, and Milwaukee West holds a movie night with a discussion instead. Sometimes clubs invite the authors to join the conversation. For Example, Kambri Crews, author of Burn Down the Ground, joined Milwaukee West via a Skype call. In November, Maplewood/South Orange invited Mothers & More member and author Pamela Erens, to participate in a discussion about her book The Virgins.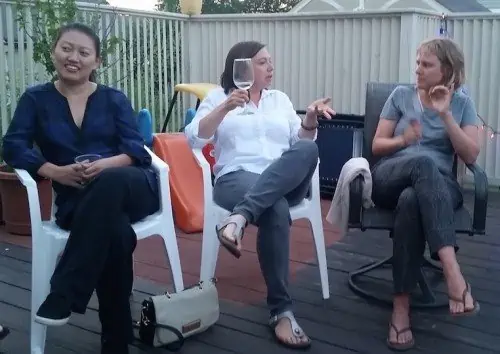 Encourage Good Discussions
Book Club members at Maplewood/South Orange offer questions to add to the ones Marianne researches online and brings. They also check in to see how much they liked the book they discussed and what was and wasn't appealing. "Our questions and topics vary, but we often talk about the writing style and what we think the author is like as a person," said Marianne.
Their discussion ranges above "Did you like it?" and below "Discuss the postmodern symbolism." Pamela, on the other hand, researches questions online and circulates them to Milwaukee West's club in advance. At the meeting, she first asked if members enjoyed the book or if they would recommend it. Then they dive into the questions and ultimately "discuss the meaning of life," she laughed.
According to Marianne, discussions are livelier when people vary in how much they liked it. "The best books to discuss are the polarizing ones. Books that have an element of fantasy or characters that are not fully lovable also lead to lots of chatting.
We have good discussions about novels that are not necessarily plausible. They require a bit of a stretch." Pamela agreed, "Controversial subject matters, such as the ethical behavior in My Sister's Keeper by Jodi Picoult, entice good discussions."
Allow for Diversity
Another factor in having a successful book club is including different types of people. Milwaukee West has 3-15 people attend, averaging about 6-8 per meeting, and Maplewood/South Orange averages 10-20 per meeting. They are of different ages, have children of different ages, and represent the full spectrum of religious, political, and other beliefs. Both chapters have new and long-time members and enjoy their diversity.
Go For It!
If you're thinking about starting a book club, just go for it! Marianne and Pamela have offered a few titles and recommendations to help you get started:
The Curious Incident of the Dog in Night-Time by Mark Haddon
The Death of Bees by Lisa O'Donnell
The Unlikely Pilgrimage of Harold Fry by Rachel Joyce
Gone Girl by Gillian Flynn
Burn Down the Ground by Kambri Crews
People of the Book by Geraldine Brooks
The Cellist of Sarajevo by Steven Galloway
Lucky Us by Amy Bloom
Colorless Tsukuru Tazaki and His Years of Pilgrimage by Haruki Marukami
We Are Completely Beside Ourselves by Karen Joy Fowler
This is the Story of a Happy Marriage by Ann Patchett