Choosing the right diaper can be a bit of a minefield, especially if you're new to the parenting game. For first-time parents, you want everything to be perfect, including diapers, which are not an insignificant investment and will be part of your baby's life for 2-3 years.
There are dozens upon dozens of diapers on the market, and by just checking the packaging, you're not going to get a clear picture of where the diapers rate in absorbency, fit, and comfort.
Top 5 disposable diapers
It's not easy to pick a top 5. Not every parent puts the same emphasis on the same features. We know many want to have as little an impact on the environment as possible.
Others are more price driven or just interested in a comfortable, good-value nappy. We've tried to select both our top picks from the test results and pick the top diaper that might appeal to someone who has a specific idea about diapers.
Quick Comparison
Nature Babycare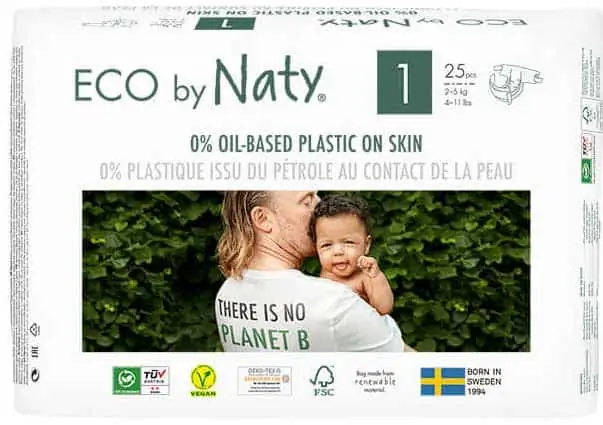 A fantastic diaper. It is comfortably and the most absorbent diaper we've tested. At the same time, it's the most environmentally friendly disposable diaper on the market.
We love the fact that it can be both of those things. They are also looking at making their packaging greener. Even the leakage is truly excellent.
You are going to have to give up some stuff. Unfortunately, it's not great in terms of fitting, comfort, and durability. Scoring some of the worse scores in our testing. We just feel, and it's only our opinion, you might disagree, that having a diaper that's so green and so absorbent is what matters.
Absorption
It scored the highest in our absorption tests. After testing, we just felt that it will keep the baby as dry as possible for as long as possible, avoiding diaper rash, which can be uncomfortable for the baby.
Leakage
Regarding leakage, our testing found it pretty good. Not the best, but very respectable. Perhaps thanks to its absorbability, this diaper very quickly absorbs the liquid into the center of the diaper, so it doesn't leak.
Fitting & Comfort
It doesn't fit the best. Perhaps because the materials it uses are so environmentally friendly, this may cause the odd leakage.
Durability
It didn't score well in durability tests. It's the only criticism you'll find for this diaper when you trawl user reviews. It's one of the poorest, so you'll need to have them changed regularly, but there is a perfect reason for it.
Again, it's because of the biodegradable material used. You have to decide if changing the diaper a little more is a fair exchange for having the most ecological diaper on the market.
Babyganic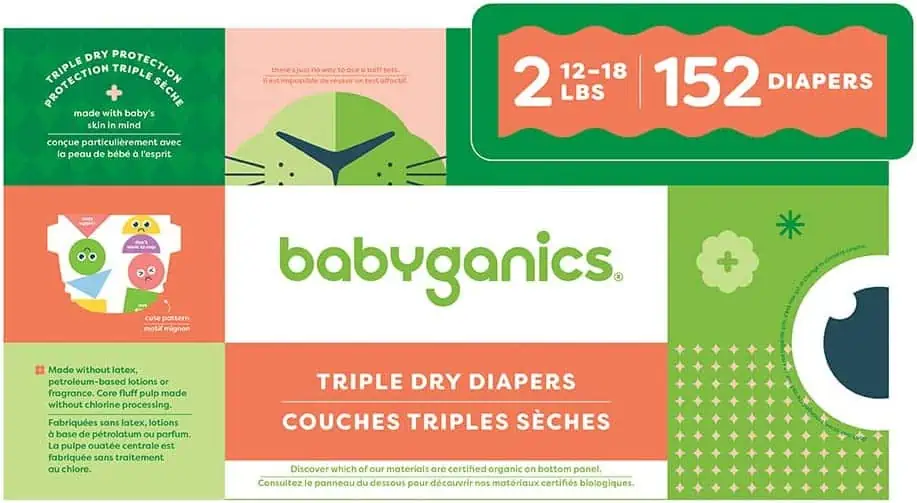 As an all-rounder, this is probably the best. It should be your choice if you are not particularly focused on a green diaper. It's one of the most absorbent, it doesn't leak a lot when well fitted, and it's one of the most comfortable for your baby. Add to mix its durability, and there's a lot to like.
For environmental impact, it scores "fair." They've not gone as far as to make it biodegradable, limiting the materials you can use that offer comfort, but they've decided to be Chlorine and latex free. They can consider themselves very unlucky not to be our top pick.
Absorption
Babyganics does quite well with absorption. It's right up there with the best diapers on the market. Only Nature Babycare tested better, and the difference was negligible. It's why we have scored Babyganics so highly. Parents need to keep their loved ones dry and comfortable.
Leakage
We feel that this nappy sits somewhere in the middle of the pack. Our testing scored an excellent result, but it is slightly different from an actual baby.
The average score is due to the online reviews that suggested it was prone to the odd leak, but we tend to feel that the nappy was most likely not fitted properly. Remember, every baby is different. Your little one might not be a good fit for the Babyganics diaper. It would be best if you tried it regardless of how good we say it is.
Fitting & Comfort
It scores very well for fitting and comfort, one of the best we've tested. The diaper uses soft materials on the inner lining, which gives the diaper its comfort. The elastic is where it shines. If you were to try it and found it's an excellent fit for your baby, your little one would have an absorbent and comfortable diaper.
Durability
The diaper scores well on durability. Both in our testing and when reviewing online user reviews. It's clear that Babyganics chose to be comforting and durable over environmentally friendly. It's not terrible for the environment. Others are just better.
Bambo Nature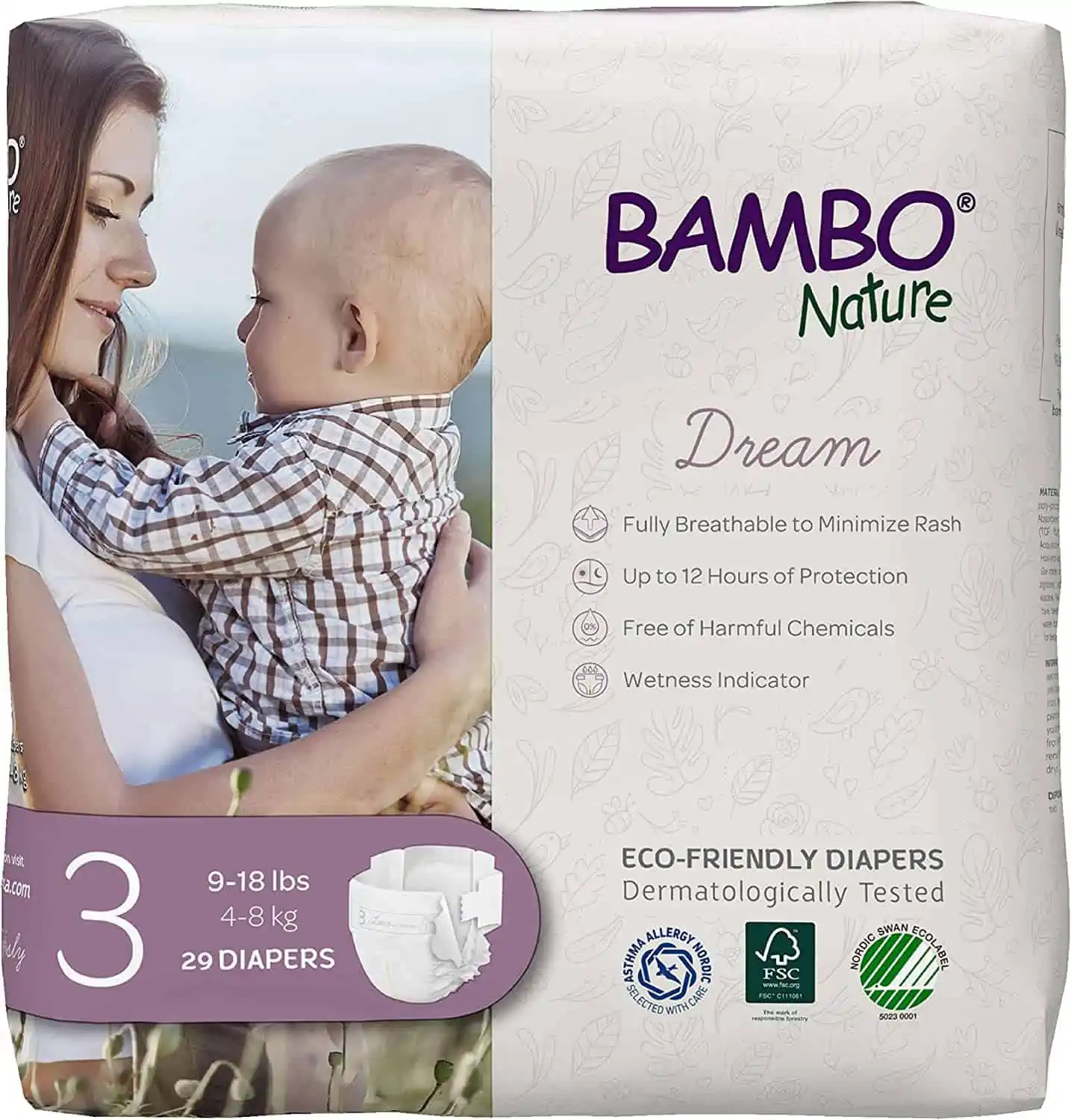 This is probably the best all-rounder on the list. It's pretty ecological, the 2nd most ecological on this list. It's also the 2nd most comfortable and scores well above average on every test we've done. Being above average doesn't sound exciting, but in diaper terms, it is.
We are big fans of this diaper because it manages to balance comfort and environmentally friendly. At the same time, they are ticking all of the other boxes. So far, diapers on the list have either been the most comfortable or the most ecological. They've had to choose one or the other, whereas this diaper pleases both masters.
Absorption
The Bamboo Nature scores a little above average in our absorption test. We'd say it does pretty well, more than satisfactory. We are just spoilt from a couple of the excellent alternatives. Any option to avoid moisture on the skin, which can lead to diaper rash, must be taken seriously.
Leakage
Very similar to our review of Babyganics, our testing was positive. Again, the results are middle of the pack but very acceptable. Online reviews are a mixed bag. When looking at leakage, it's challenging to figure out what leakage is a design default and what leakage is due to poor fitting. No diaper fits every baby perfectly.
Fitting & Comfort
Only one other diaper on this list scores better when looking for comfort and fitting. It feels right. A diaper for Bambo Nature to use Bamboo as a material for the inner lining. It's very soft and an excellent option for the motion points of the diaper.
Durability
The recurring theme for this diaper is "above average," and that's the best way to explain its durability. Above average doesn't sound like the most exciting score, but you must remember that diapers have a very short lifespan anyway.
It's sufficient, which is good enough for us.
Seventh Generation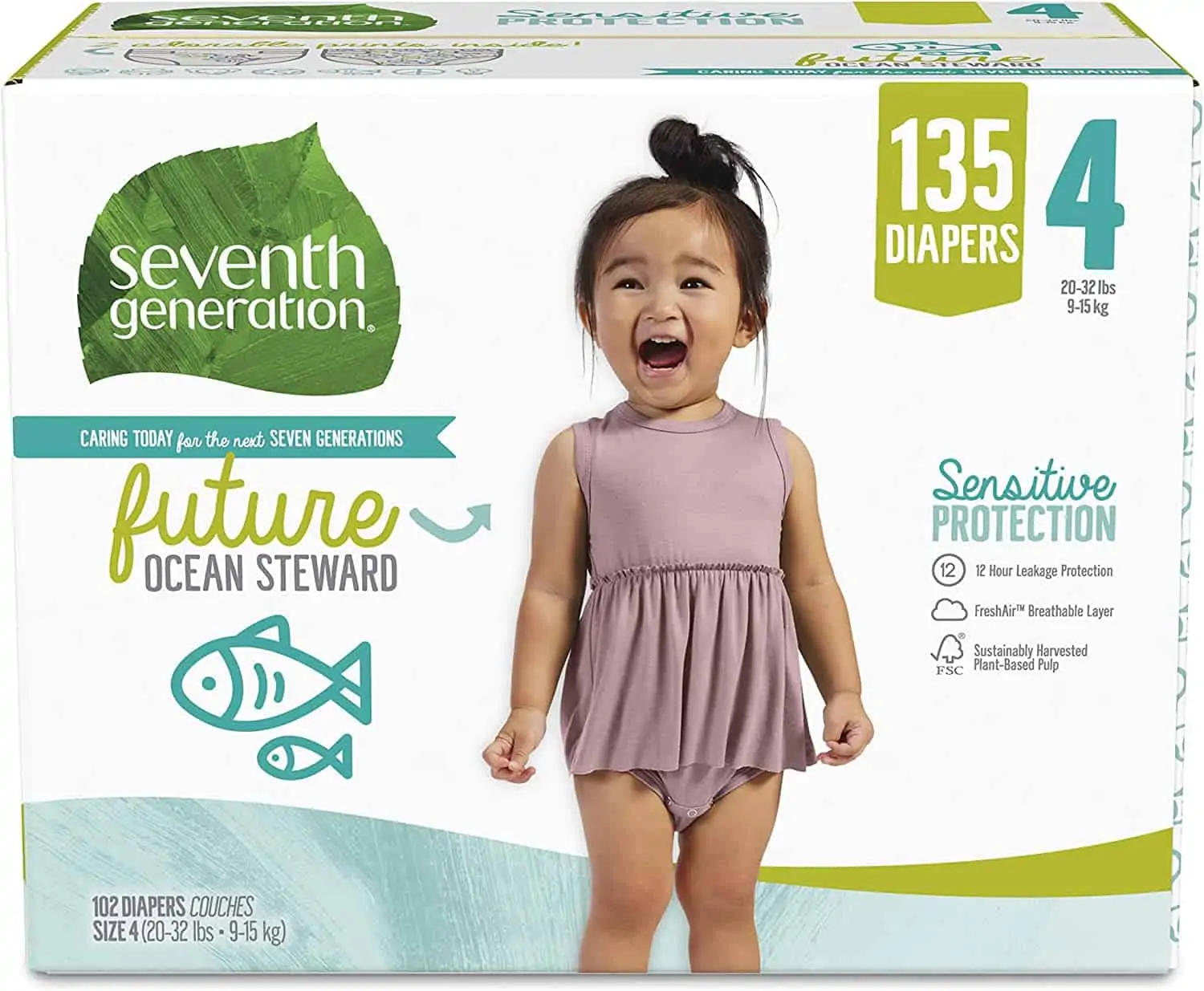 When we tally up the Seventh-Generation diaper, it scores better overall than the Bambo nature diaper, which was our third choice. That's because it's both magnificent and a little flawed. It's one of the best diapers we've tested regarding health and ecological impact. It's also pretty durable and has well above average absorption.
It's not among our top choices because it scores below average on leakage and comfort, which are often entwined. It depends on what is important to you. If being green is important and having a durable diaper that's absorbent, you will love this diaper.
Absorption
The Seventh-Generation scores well regarding absorption. One of the best we've ever tested. We're very fortunate that there are several who score so well, this being one of them. Being a little hit-and-miss, it's the absorption that just tipped the scales and made us include it in our top 5.
Leakage
This is one of the weaker areas for the Seventh-Generation review, a touch under average.
Leakage is essential for the baby's comfort and protection against possible diaper rash. It's one of the reasons it's only our 4th choice.
Fitting & Comfort
Again, it's a mixed bag. Often leakage and fitting affect each other, and both end up affecting a diaper's ability to be comfortable.
The material used is not exceptionally comfortable, possible the worse on this list. Still, the elasticity does very well, which helps with fitting, and a well-fitted nappy will always offer some comfort over a poorly-fitted diaper.
Durability
The Seventh Generation has excellent durability. No complaints. The 2nd best on this list. Those same materials that were just judged as lacking in comfort are the main reason it's remarkably durable. It all depends on what's most important to you.
Babies R Us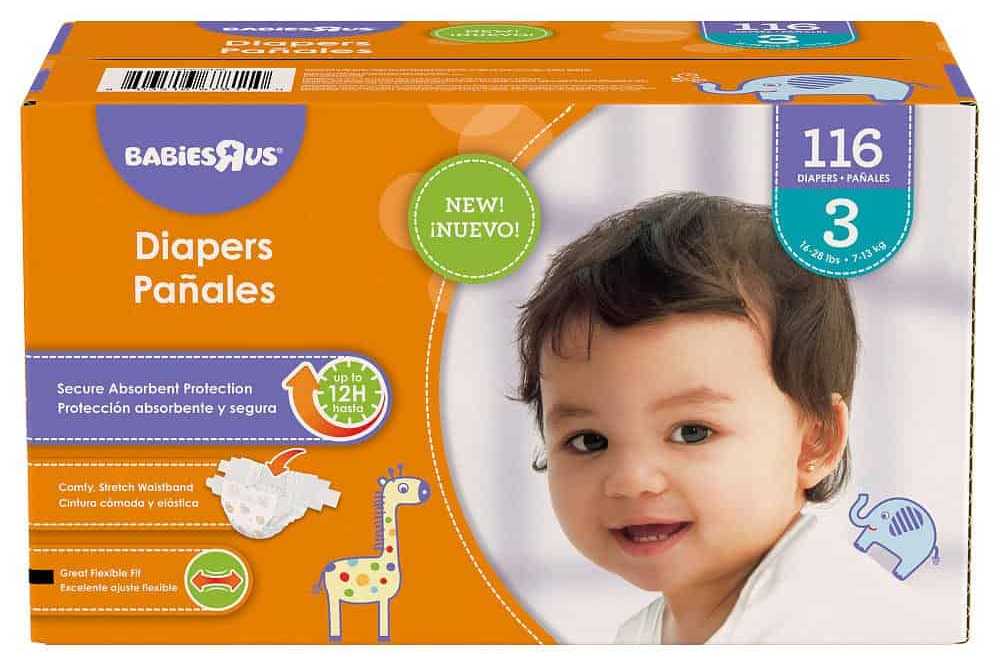 We've added Babies R Us to the list because it offers something completely different. It doesn't concern itself with being green or sensitive. You'd need to see if you're baby reacts to the materials used.
They are not bad; they could be slightly more sensitive to the skin.
It does well because it scores above average for absorption and leakage while being affordable. This will be a great option if you have a tight budget because it performs its core functions very well. You just need to test it for fitting and skin sensitivity.
Absorption
We like this diaper because it scores well on our absorption tests. Not the best, but pretty close. And we can't get over how it performs so well at such a lower price point. The brand has decided to focus on what's important.
Leakage
The same can be said for leakage, as was noted for absorption. Even if this diaper was similarly priced, it scored in the top 10%, but when you frame that in terms of its price and value, it's nothing short of spectacular.
Fitting & Comfort
You can tell that it's not Babies R Us' main priority, but it didn't score poorly. More than satisfactory. It's just that others have to spend a lot more time and effort to offer such high levels of comfort that it looks worse than it is. Again, you can't complain at this price; it shouldn't be a reason not to buy this diaper.
Durability
The diaper was made to deliver what's important at a low price. That means it offers both high absorptions and doesn't leak often. The side effect of being "no-frills" is that it's not focused on being green.
Top 5 cloth diapers
There's no question about it. Cloth diapers are the most ecologically friendly option when it comes to diapering. Plus, just look at them. They look so cool, they're more than just a diaper these days, and during the summer months, for many, it's an excellent option to have your little one in just their diaper to keep them cool.
But, similarly to disposable diapers, there are many options, so how do you pick them? We've made it easy by picking our top 5 favorites for you.
Any of these would be great for your baby. Just pick the one that matches your budget and personal preference.
Quick Comparison
Rumparooz G2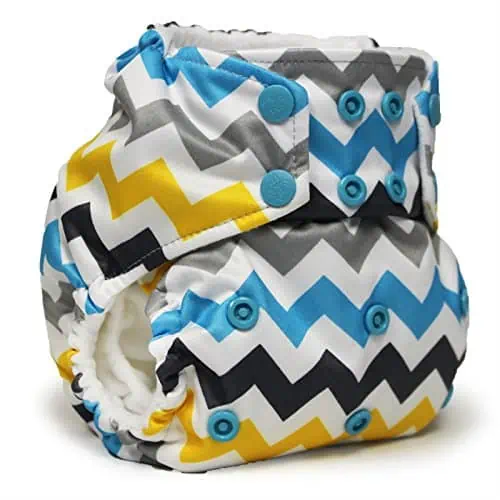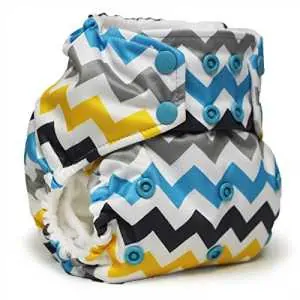 The Rumparooz G2 could well win out the top spot on name alone. It's pretty cool. But it just so happens that when we tested it on absorption, durability, and comfort, it scored best overall.
It fits particularly well and is ultra-absorbent. It has neat features like a double gusset that keeps the poop away from the edge to avoid leakage.
It also offers excellent flexibility and can be used as a stand-alone diaper or as a diaper, to offer even more security when you need it most. What's not to love?
Flip Hybrid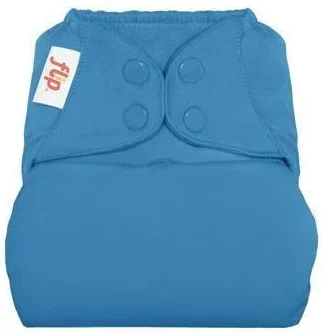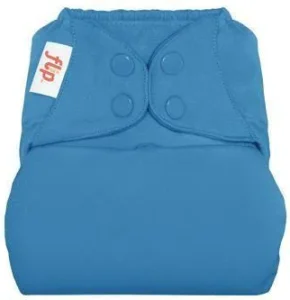 This is an excellent diaper on its own merit, but it's especially attractive thanks to its great pricing. As a diaper, it scores 2nd overall, which means we like it in absorption and comfort.
If it's well-fitted, it also limits leakage. And now the icing on the cake. The price. It's 25% cheaper than the top-scoring diaper, which is a significant benefit. It's very popular with customers, and it's easy to see why.
GroVia Hybrid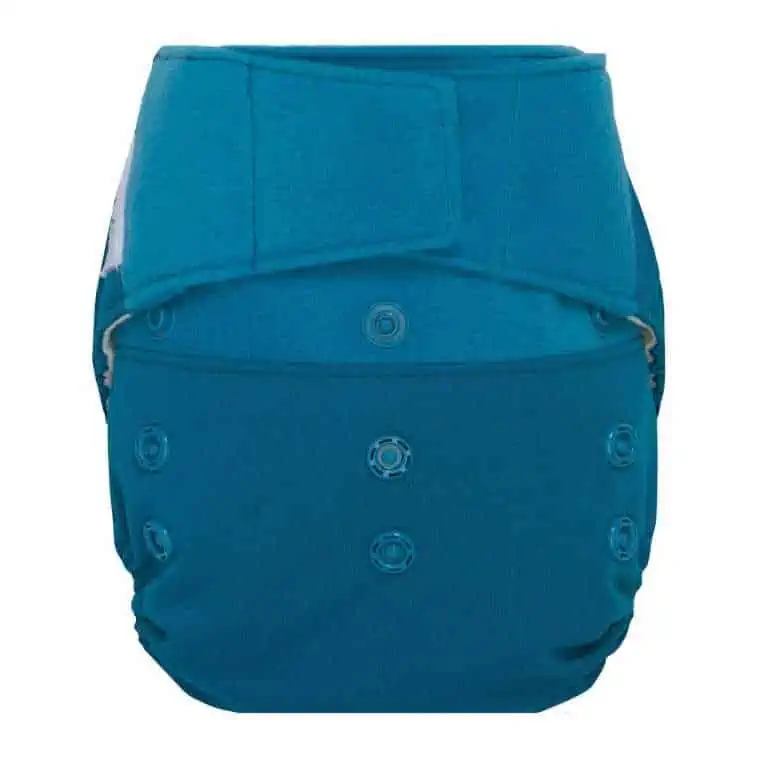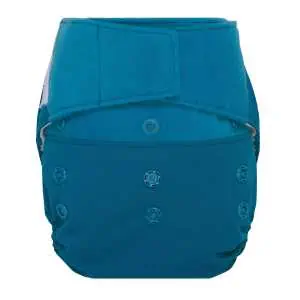 Instantly, it's easy to see the value of the GroVia Hybrid. It's probably the greenest cloth diaper we've tested. A lot of our readers are looking at cloth diapers because leaving a small footprint matters.
If that sounds like you, then you'll love this. But that's not all it is; it also does well in our testing. In terms of absorption and comfort, it scores well above average. The diaper uses a system of an "outer shell" system with three options for inner inserts that help absorb the fluid, and they differ depending on the situation.
Blueberry One Size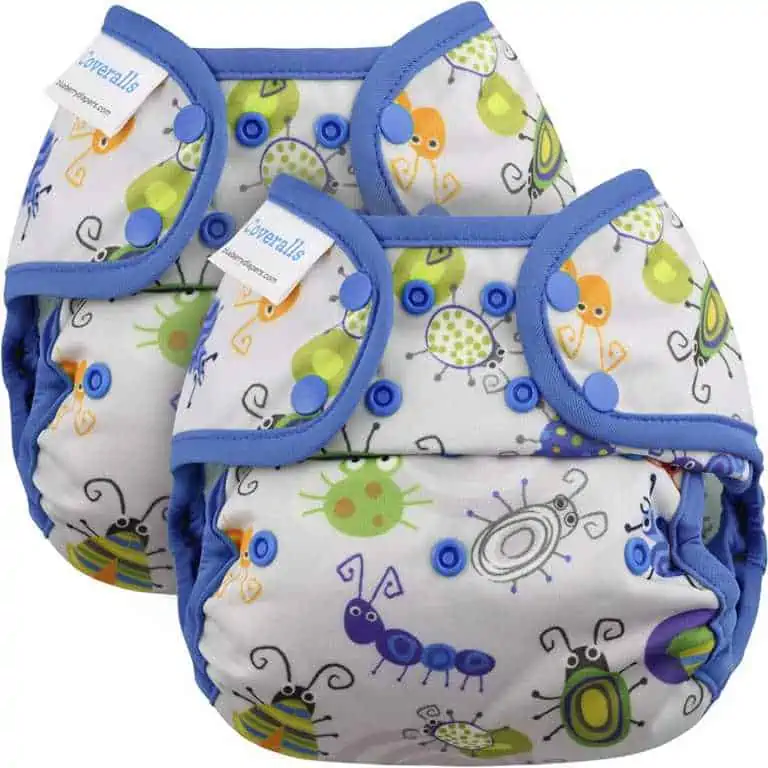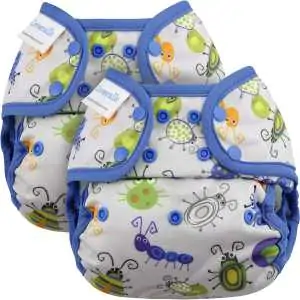 This one-size cloth diaper is gaining a lot of friends right now, so much so that we had to include it in our top 5. It's not cheap; it's double the price of our #2 choice, the Flip Hybrid diaper.
But it certainly oozes quality, and some might think it's worth the extra cost. It has an outside waterproof layer with an inner layer that's 100% cotton. It's well-made and well-designed, and you can tell where the extra money went.
bumGenious Freetime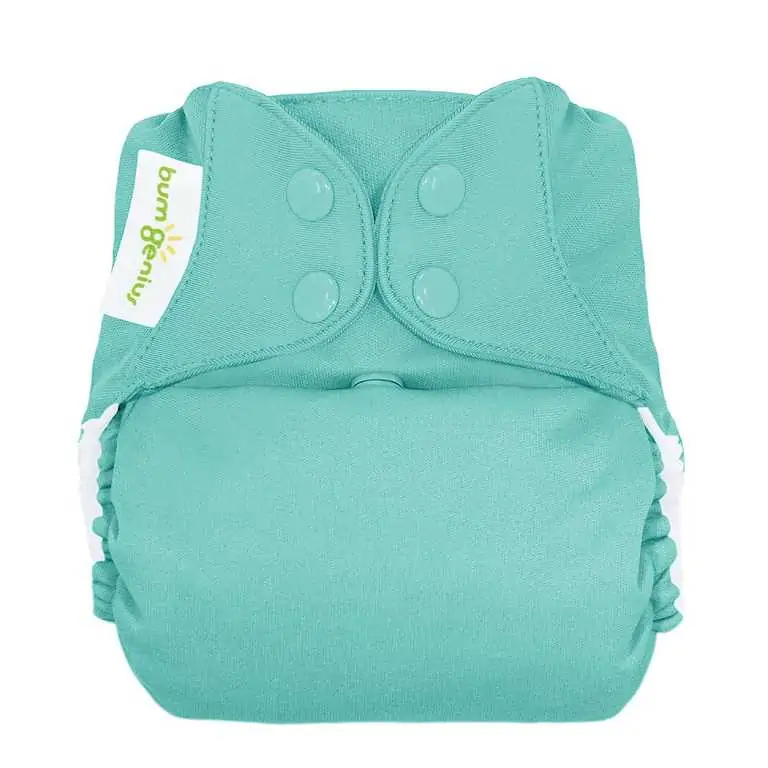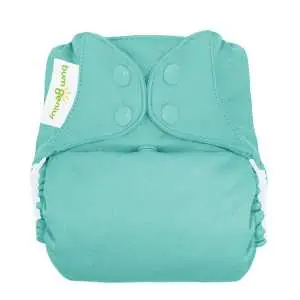 This fun all-in-one diaper is probably the most comparable to a disposable diaper. It's our favorite all-in-one diaper by some distance, and it scored pretty well against other cloth diapers, making it into our top 5.
It scores very highly for comfort and ease of use, but when tested for absorption, it's an all=in=one if it doesn't do so well compared to cloth diapers with double layers.
Top 5 Swim Diapers
Some of our readers might not be up to speed on swim diapers. How exactly do they differ from your standard diaper?
The main difference is that your standard diaper uses SAP (Super Absorbent Polymer) to absorb the liquid, and SAP doesn't work in water.
Swim diapers are not built to contain fluids. A swim diaper's job is just to contain poop.
So you are still faced with the option of cloth or disposable. Whereas, for the day-to-day, we would advocate the disposable diaper, the opposite is true for a swim diaper.
Disposables might be able to hold in some fluid, but as soon as there's something solid in them, poop, they sag from the water and the extra weight. If you're not quick, there's going to be an accident.
So, it's cloth diapers for swimming. They might be heavy when wet, but they keep everything inside and super comfortable. So here are our top 5 reusable swim diapers.
Quick Comparison
i.play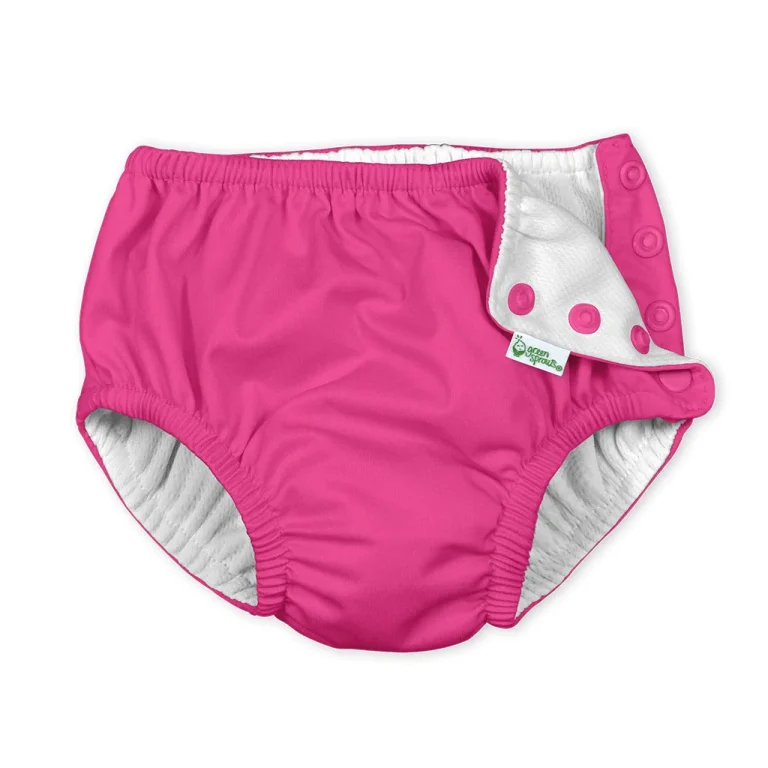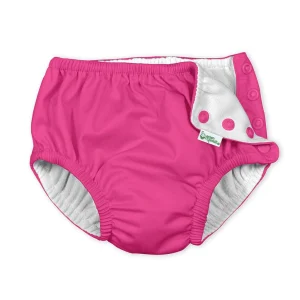 Probably the oldest and certainly the most popular swim diaper on the market. We love the "side-snap" version. Changing a wet and dirty diaper is a messy affair, but having side access like that makes it so much easier.
If you treat them well, follow the instructions, and dry them naturally, they'll last all summer.
Finis Swim Diapers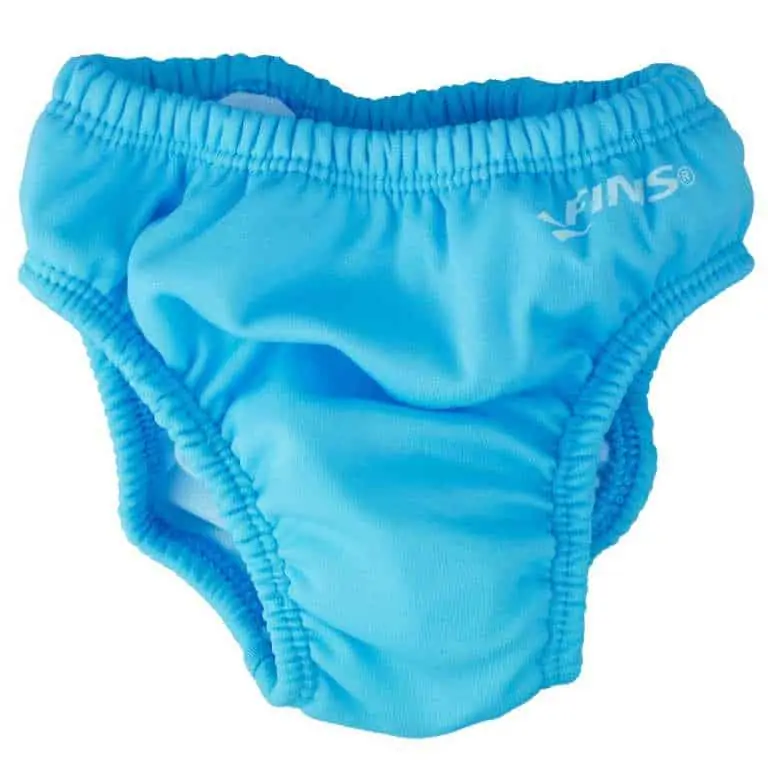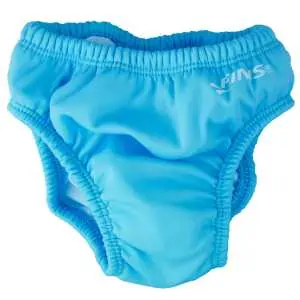 We love that it has one style for boys and another for girls. These can hold a little fluid, but don't treat them like a regular diaper. Being able to hold a little pee just makes it more practical.
When you choose the right size, they're also comfortable. A negative is that they are not machine washable, plus they're pull-ups and tend to sag a little when there's poop.
Alva Swim Diapers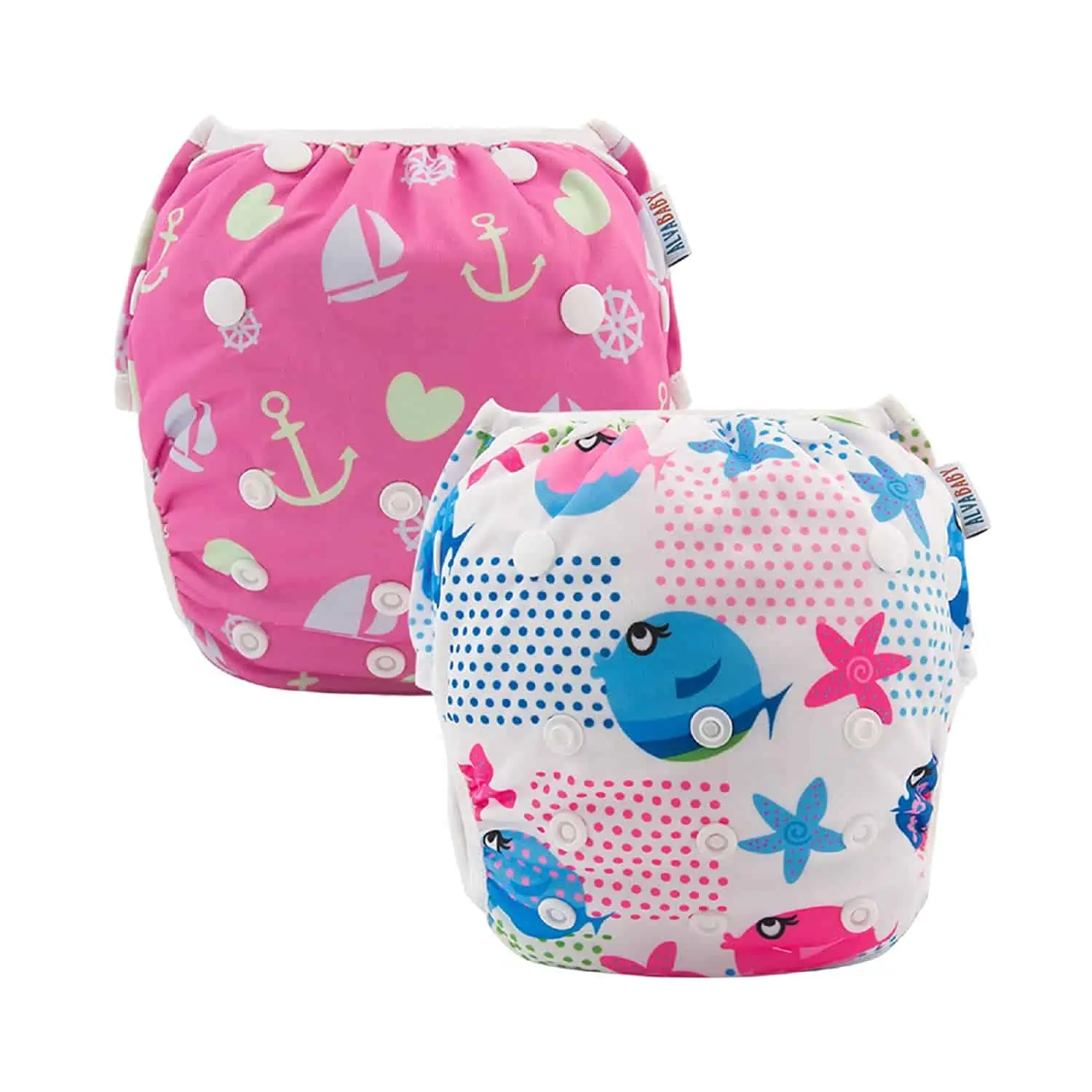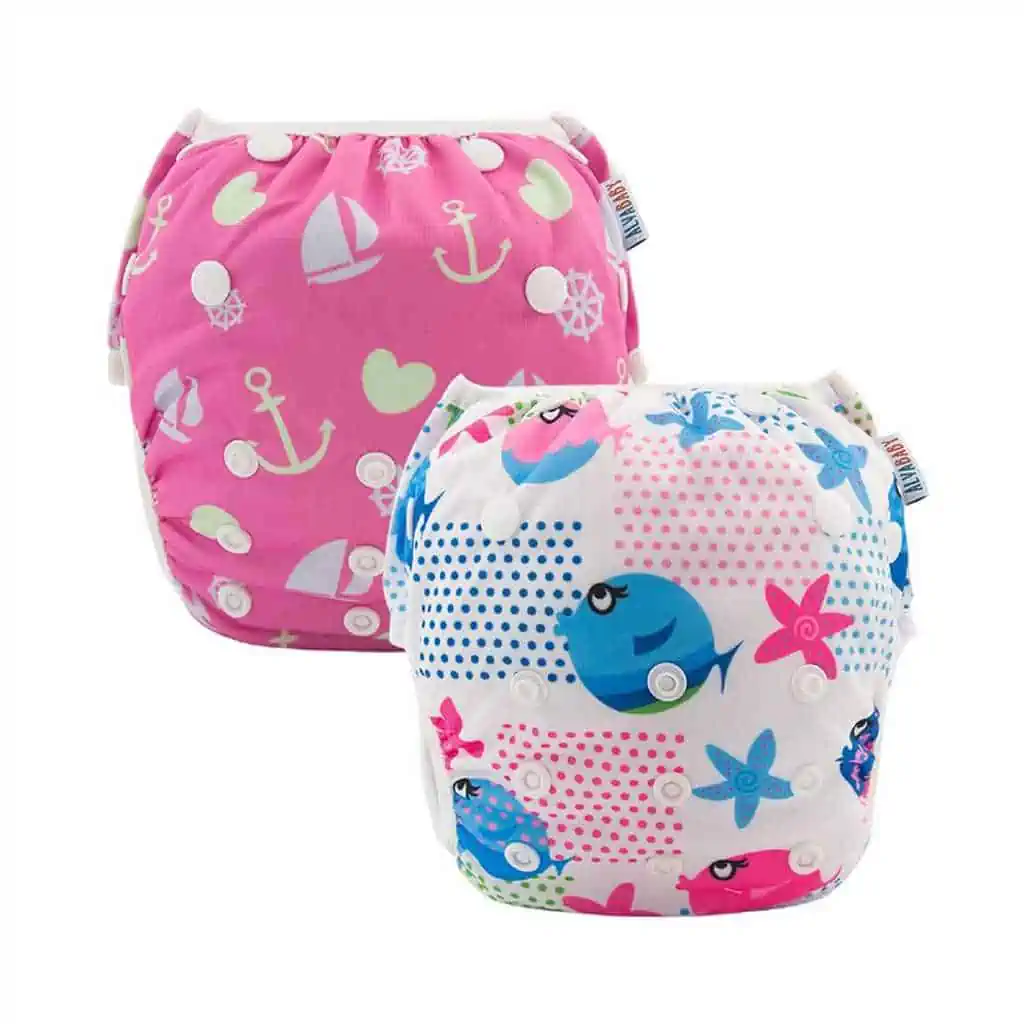 Consider these the new kid on the block. They bring something new to the swim diaper world; they're a one size fits all diaper. They are adjusted to fit perfectly with a side snap for convenience.
What makes them really practical is that they are machine washable and Dryable. They are growing in popularity because of their ease of use.
AppleCheeks Swim Diapers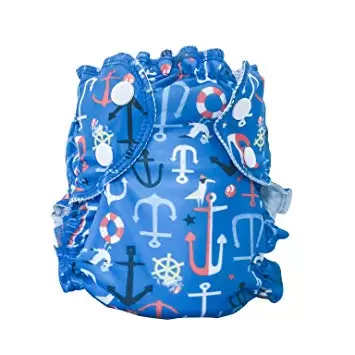 This is an unusual diaper because it almost has an underground following. Those who know about it, which is limited, love it. Again, they use a snap to adjust the diaper and make them fit perfectly, and get them off and on.
It makes them very easy to use. So they are an excellent all-around swim diaper, but what makes them really special is that there are just no bad reviews for them online.
Kushies Swim Diapers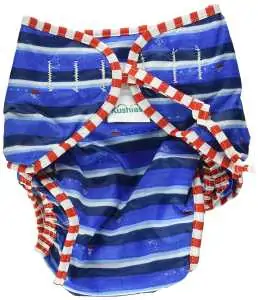 We've added a lower-cost swim diaper to the list. Not everyone has the same budget, and we wanted to ensure we had an option for everyone.
Yes, it's a little poorer in quality than our top 4 selections, but it still does the job. It employs velcro and ties to ensure a snug fit and is well-built, making it durable.
Don't expect it to last more than one season, but then your little one will have shot up anyway, so no real problems there. The bigger size soaker can be used for larger babies and young toddlers.
Buyer's Guide
Some tips before we start
As a parent, you probably have your own expectations of a diaper. It could be based on cost or perhaps health. You might have a "bee in your bonnet" about its effect on the environment or want your diaper to offer the perfect fit. It could be that you've set high standards and demanded all of that.
An important tip is to avoid buying in bulk until you're 100% happy with a diaper you've been testing out. Diaper companies have made it their mission to trap you with great pricing on bulk purchases.
They understand that people are creatures of habit, and if you were to buy their bulk diapers, you are much more likely to become a regular customer thanks to habit alone. So, avoid that trap.
Another good tip is to put off buying diapers until your baby is born. There are various diapers for newborns, and they come in different sizes. You could guess and buy them in advance, or your doctor might have given you a heads up on the size of your baby from the last scan, but that's not particularly accurate.
You might have to rush out at the last minute anyway to get some diapers that fit.
Final tip. If you're looking at European brands, pay attention to the sizing; they have their own system and often use kilograms.
Understanding how a diaper works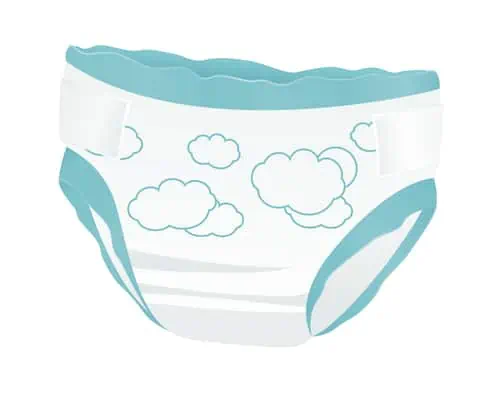 As a general rule of thumb, diapers are constructed with three layers.
The inner layer is the layer that sits against the baby's skin. It's obviously designed to be soft and comforting. At the same time, we need this layer to stay as dry as possible and absorb moisture into the diaper's core.
The middle layer is the absorbent component designed to trap moisture, so it stays away from the skin to avoid nappy rash.
Finally, the outside layer has a waterproof element to help to prevent any leakage.
Make sure to choose a diaper that exceeds absorbency.
As much as we can overcomplicate picking the correct diaper, ultimately, we want it to absorb fluid. That means both how much liquid can be absorbed and how well the diaper keeps the fluid away from the inner layer and the baby's skin.
Choosing a diaper with poor absorption can lead to the baby having persistently damp skin, which causes diaper rash and makes your baby uncomfortable.
It is something we test stringently throughout our reviews.
Looking deeper into diapers: Introducing SAP (Super Absorbent Polymer)
I don't want to bore you with too much science, but it doesn't hurt to understand some of the science behind diapers.
For a start, this technology is able to absorb 300 times its weight. It looks like a little white crystal, and diapers have a handful of these crystals in the diaper's core.
When it gets wet, the crystals become "gel-like" as they absorb the fluid. Parents have been known to freak out if some of the crystals escape.
Testing has proven time and again that it is safe and non-toxic. Even diapers that promote themselves as green or environmentally friendly will use SAP proudly. It doesn't significantly impact the environment, and it's not dangerous.
Why a well-fitted diaper matters
As you probably know, diapers are categorized or sized by weight. But you have to remember that diapers are similar to clothing. Each manufacturer or brand is sized and shaped differently.
And, just like choosing clothes, you need to make sure they fit your baby well. In the case of diapers, it's crucial because an ill-fitting diaper leads to leakage. Recently, this has been less of an issue with the introduction of a double elastic sealing edges.
Unfortunately, even with this new technology, not all diapers fit well. You need to try them on your baby because there's no way of testing this for you.
From our experience, a good rule of thumb is how much elastic flexibility the diaper offers. So start there.
Comfort is as important as absorption
We all want your little one to feel as comfortable as possible in their diaper. With babies and their soft skin, the little things matter.
It's not just the obvious, like the material used, because most diaper brands have that covered. It's the little things like the tabs. Are they made with soft materials? Do they have rounded corners? Are all the edges and seams perfectly made to avoid chafing?
Thinking green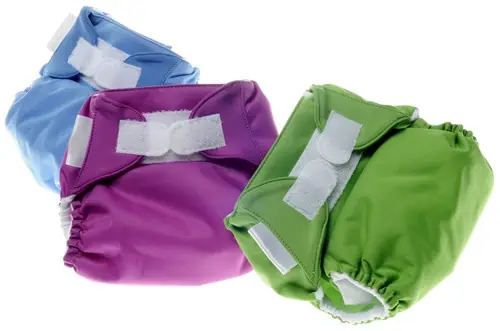 If the environment is important to you, it's difficult to pick through the available information and determine which diaper is better for the environment.
A good start is biodegradable diapers. They are designed to have less carbon footprint but need specific conditions to decompose.
They will struggle if they end up in a dark, airless environment. So, perhaps cloth diapers are a better route? But they require so much water and energy to clean each time. Surely that can't be green?
If you're determined to be green, you have plenty of options. For example, some diapers use renewable resources. Others are biodegradable. Some decide to offset their carbon footprint by contributing to charities.
It's tough to give a definitive answer; you'll have to pick your way through this minefield. The only concrete information we can say is that our testing has suggested that cloth is more environmentally friendly than disposable diapers.
Focusing on your baby's health
It's a given that everyone has their baby's health as their biggest priority. But some parents must deal with sensitive babies who need latex or perfume-free options. They might need to ensure they're using hypoallergenic diapers.
A word of warning, hypoallergenic is not regulated.
Some less ethical brands might be using the term for marketing but not actually following through with their promise.
Don't be fooled by price
New parents often fall into the trap of pricing out diapers depending on the price of the newborn diaper (sometimes called size 1). There is a good reason why the brands want you to do this and why you shouldn't fall into the trap.
For a start, larger-sized diapers cost more. They're bigger and use more materials. Naturally, they're more expensive. But diaper companies know that we are creatures of habit.
There is a good chance that if we use their newborn diaper, we'll most likely stay loyal to the brand as our child grows, so they make it as affordable as possible to draw us in.
Important note: Some well-known vendors offer an additional discount for a subscription. That's why it's essential to buy in small amounts first, test the diaper, and make sure it's not just good "on paper" but a good fit for your baby.
Then look at subscriptions that will make diapers more affordable.
Summary
Choosing a diaper can be intimidating, especially if you're a new parent. But, I want to take a minute to reassure you. Firstly, it's perfectly normal to feel overwhelmed by all this.
It's probably a good thing. You're being conscientious and caring about stuff that can be important. But secondly, If you pick one of our top 5 picks, test it to ensure that it's a good fit for your little one.
If you do the research yourself, think about what matters to you most. The health of your baby, sure, it's a given that you care about health, but we're talking about how 'sensitive' the materials are to ensure there's no allergic reaction.
Comfort and ensuring it's a good fit is also a consideration. Are you big on taking care of the environment?
Enough to influence your choice of diaper? How significant is your impact on the environment? Are you willing to consider a cloth diaper or perhaps a biodegradable one?
It's your choice.