Whether your loved one has literally pushed out a baby, delivered via c-section, or has adopted, welcoming a new child into the family is a big deal. Push gifts are a fantastic way to mark the occasion, provide a treasured keepsake, and bring a smile to a new mom's face.
To help you select the perfect memento, we've compiled a list of the 32 best push presents of 2023. No matter your partner's style, there's something on this list that's sure to make her feel loved and appreciated.
In a Hurry?
Here's a quick look at our recommended push present ideas. As you can see, we've included something to suit every taste and a range of budget-friendly options. After all, it's the thought that counts, not the price tag.
Congratulations on taking the first step towards finding the perfect push present for your loved one! Now that you've got the idea, let's take a look in a little more detail.
A traditional, timeless way to celebrate a birth.


Artwork makes for a unique and creative push present.

Photoshoot with a Local Photographer

Not every new mother wants a keepsake. Some just want something to keep them cozy or caffeinated!

No one needs pampering more than a new mother.

Best Push Presents for a Second Baby

For a 2nd child, the shower might've become a sprinkle, but you can still give a push gift!

Push Presents That Give Back

Mark the arrival of a new baby by making a purchase that supports women and children.

A push gift doesn't always have to be deep and meaningful. Sometimes it just needs to make a tired new mom laugh.
Best Push Present Jewelry
Jewelry is a traditional push present to give to a wife or partner. Rings, necklaces, earrings, and bracelets are all appropriate and can be treasured for years. The piece can also be chosen to fit any budget, personalized with engravings, and extra meaning can be added with careful stone choice.
To get you started, any of these suggestions would make a perfect gift for any mom.
Necklaces and Pendants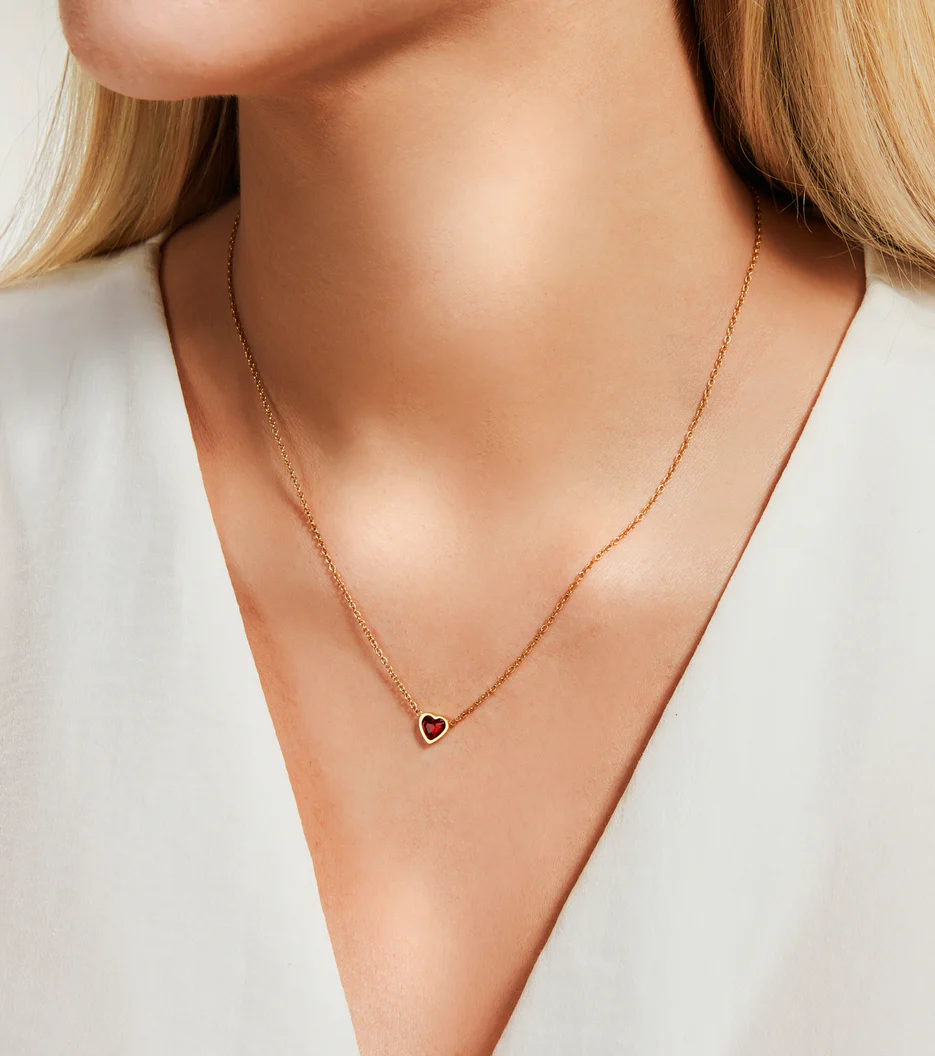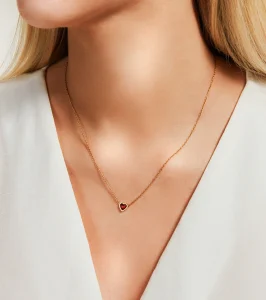 Necklaces and pendants are popular for birth celebrations because they are easy to customize and hold sentimental value.
If you know the baby's name, a great option is to make it into a gorgeous script like this Mon Petit Name Necklace From Oak And Luna. As a bonus, you can order it in any precious metal to suit mom's taste and your budget.
If you're unsure of the baby's name or worried it might change, opt for their birthstone instead. This beautiful Mini Heart Birthstone Necklace from Abbot Lyon is a wonderful choice. They even list the months alongside the birthstone to make it easy to select the right one.
Budget Friendly
If you are on a tight budget, this birthstone and flower necklace is another lovely option.
Bracelets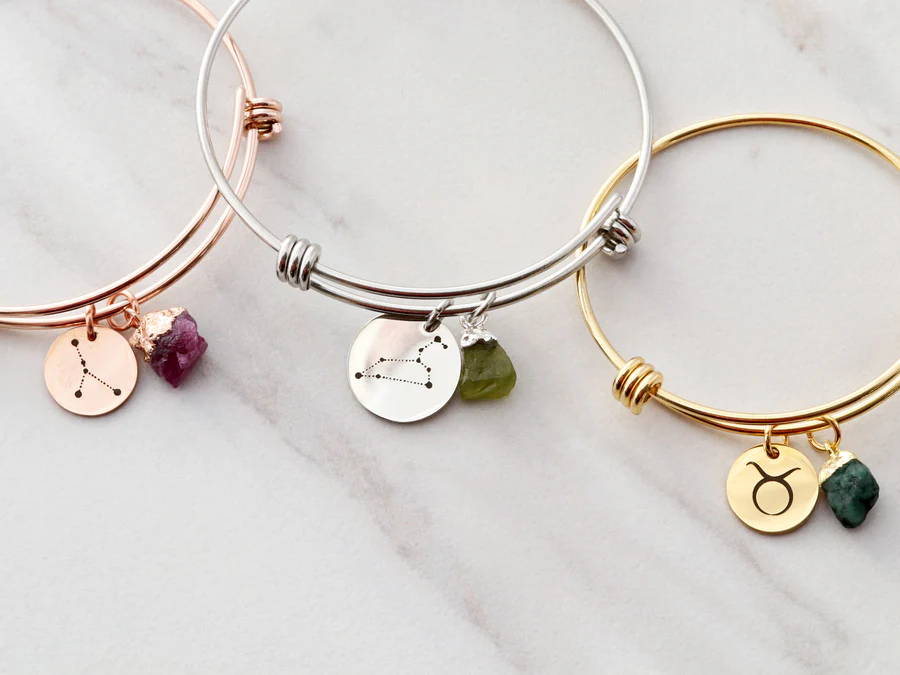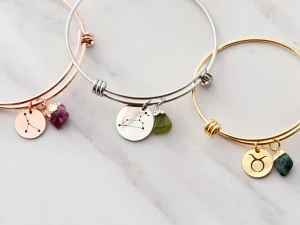 Bracelets and bangles are also easy to customize and make fantastic keepsakes.
This Zodiac Gemstone Bracelet by Tom Design can be made to match the star sign of the new baby and would make a unique memento for a mom who loves all things zodiac.
Budget Friendly
Other great personalization ideas include the initials, the birthday in Roman numerals, the coordinates of where she'll give birth, or simply a sweet message telling her what a great mom she'll be.
These engravings can be added to almost any piece of jewelry, but if you're on a budget, this pretty bar bracelet is a great choice.
Earrings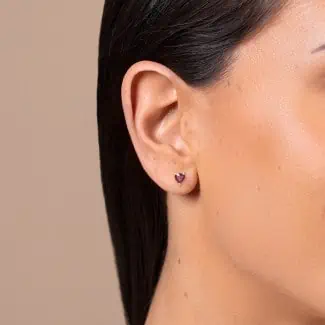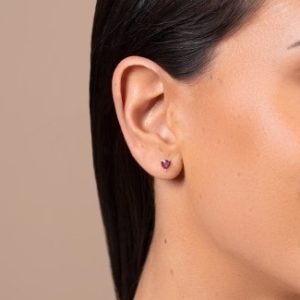 The most popular push gift personalization for earrings is to match them to the new baby's birthstone. For example, these heart studs, which can be made from any precious metal.
Another, more abstract option are these sweet Mother and Daughter Earrings, which can be customized to read "mother and son."
Budget Friendly
These silver studs, chosen to match the baby's birthstone, will make an adorable keepsake.
Rings
Rings can be tricky to give as a birth celebration because a woman's finger size can change significantly during pregnancy. If you go for her pre-pregnancy ring size, you may find it never fits, and opting for her pregnancy size may have it falling off in a few weeks.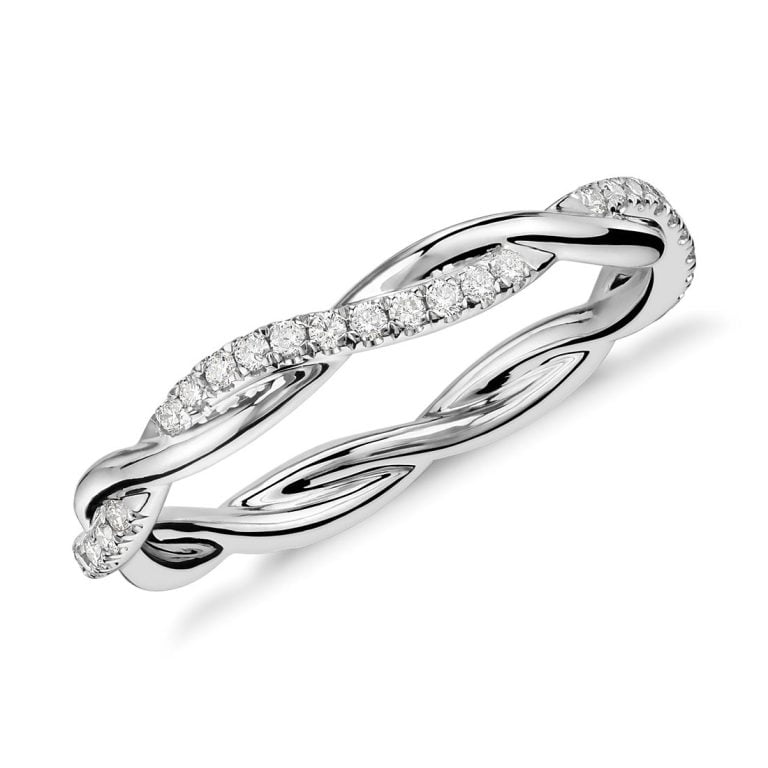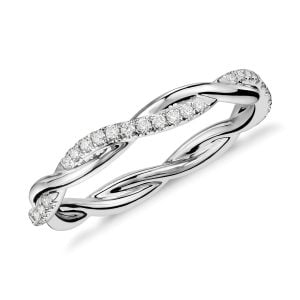 Of course, if you know that a ring is what your partner wishes for, then go for it. Just buy big and be prepared to resize.
Eternity rings are designed to represent everlasting love. This Petite Twist Diamond Eternity Ring has the added detail of two bands wrapped around each other to symbolize both mom and baby.
Budget Friendly
This sparkly knot ring will symbolize the bond between mom and baby and go with any outfit!
Best Push Present Art Gifts
If jewelry isn't your partner's thing, custom artwork for the nursery makes for a thoughtful and unique memento they can enjoy daily.
Custom Artwork
Etsy offers an abundance of talented designers and artists who create beautiful, customized pieces. For example, check out this gorgeous personalized birth stats sign or this hand and footprint memento kit.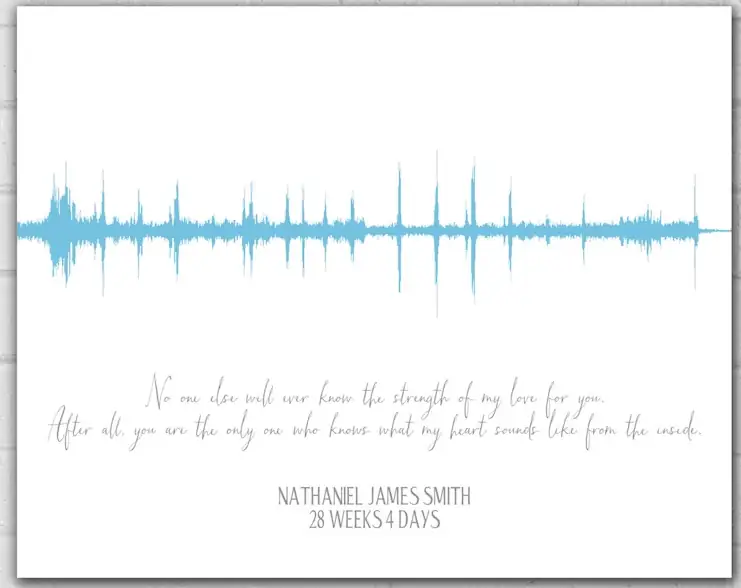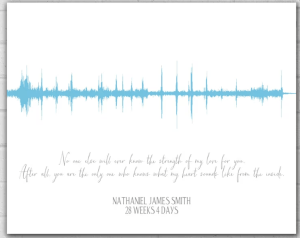 If you want something ready on the birthdate, consider a heartbeat soundwave print. You can provide an audio or video recording of the baby's heartbeat, and it will be transformed into a beautiful piece of art. You can even add a QR code so that mom can listen to it whenever she wants.
Try browsing Instagram for an independent artist willing to work on a commission for a truly unique gift. You may have to wait a little longer for your piece to arrive, but Mom will treasure knowing that it's one of a kind.
Budget Friendly
Happily, there are plenty of budget-friendly options for personalized art. For instance, this scale drawing of the baby or this printable birth poster could make for a meaningful and affordable present.
Photoshoot
If it's her style, a newborn photoshoot is an excellent way to capture and preserve memories of the baby's earliest days. Prices can vary depending on location, the photographer, and whether you choose digital or printed copies.
Budget Friendly
You can also take your own photos if you have a good camera on your phone. Give mom some time to prepare while you watch the baby. Plan for simple outfits in complementary or contrasting colors with minimal patterns.
Head outside during "magic hour" for the best lighting, and choose a location like a park, beach, or field to capture beautiful memories.
The Most Useful Push Gifts
While sentimental items are lovely, practical presents can be just as thoughtful for new moms. Consider these useful options if you're looking for ideas to make her life easier.
Espresso Maker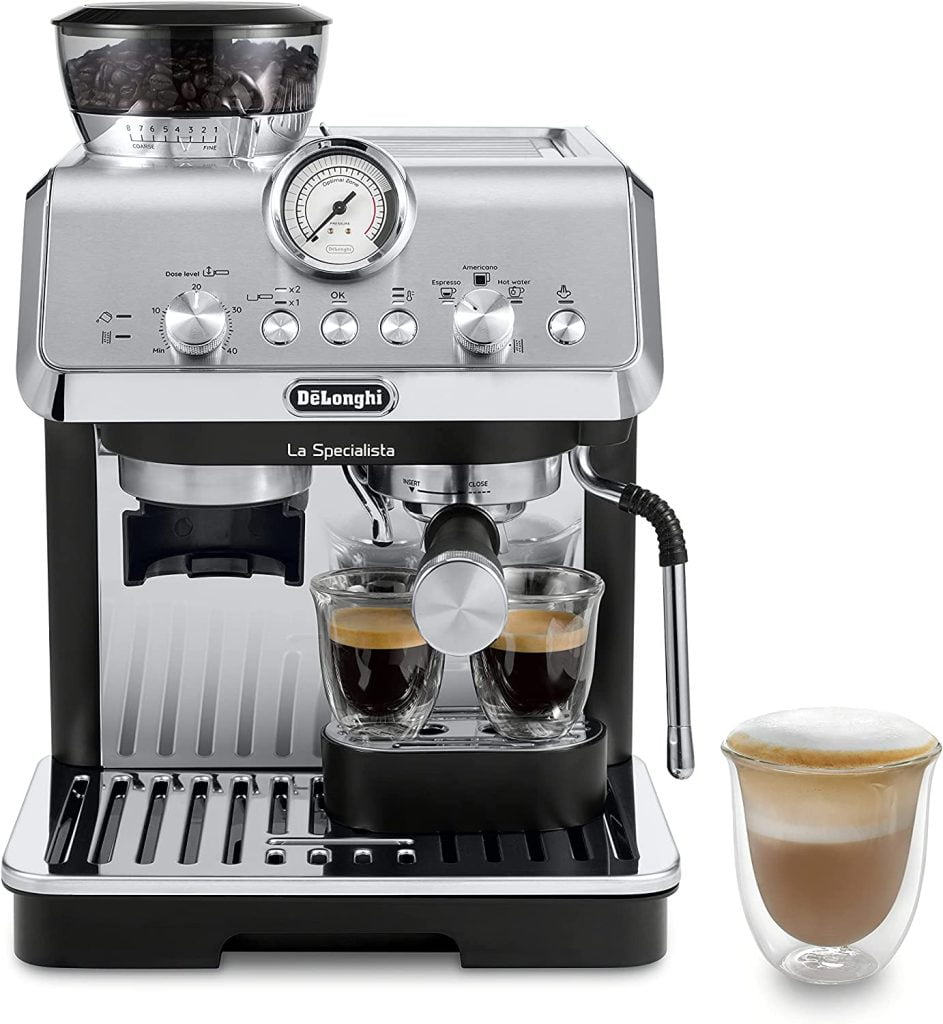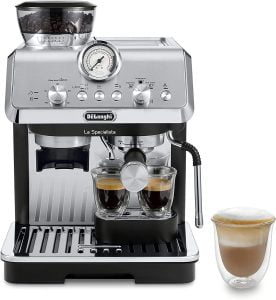 This one is a little tongue-in-cheek, but an espresso maker is the best choice for any mom who loves coffee. After all, no one needs it more than a new parent dealing with newborn night feeds. Choose from capsule or automatic; they're both delicious options!
Budget Friendly
This stovetop espresso maker has dazzling reviews and will provide her with vital coffee at a fraction of the price.
Slippers
A cozy pair of slippers is another useful gift that can keep her feet warm during nighttime feedings. These Ugg Scuffette II slippers are a super snuggly choice. Plus, they're slip-on, perfect for shuffling into while holding the baby.
Budget Friendly
For a wallet-friendly version, try these fuzzy memory foam slippers. Their reviews are outstanding, and they'll keep toes just as toasty.
Dressing Gown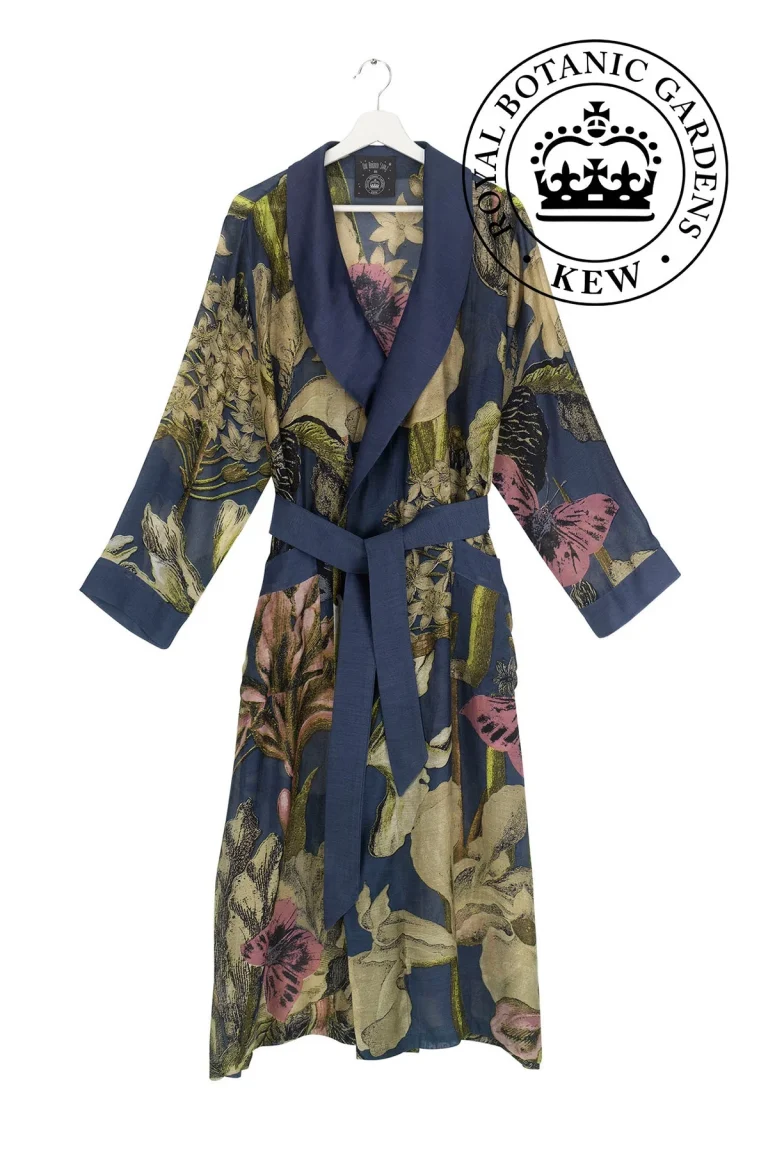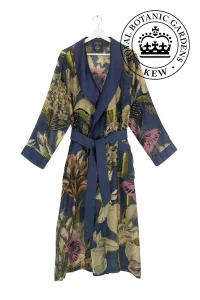 Another way to make those night feeds a little more comfortable is with a luxurious dressing gown. We'd recommend sticking to something dark and patterned like this gorgeous Kew Iris Blue Gown. No one wants to be changing diapers in white silk!
Budget Friendly
As an affordable alternative, check out this fantastic satin robe with equally wonderful reviews.
Best Pampering Push Presents
Giving birth is no easy feat, and new moms deserve a little pampering to help them recover from the physical and emotional demands of labor and early motherhood. Here are some of the best pampering push present ideas that can help moms relax and feel rejuvenated.
Spa Day
A spa day is the ultimate way to indulge and unwind. But booking a day out for a new mom is tricky. Fortunately, with a Spa Finder gift card, you can choose the amount and let her pick the time, location, and treatments she wants to enjoy.
Budget Friendly
For an at-home alternative, give a SpaLife hand, foot, nail, and face set. They'll have the new mom glowing from head to toe in no time.
Light Therapy Mask
LED therapy has been taking the health and beauty world by storm. A mask makes the perfect push gift, as it'll magically take away all signs of fatigue and aging that come with a newborn. There are hundreds of products to choose from, but Aluralight is one of the best.
Budget Friendly
For more traditional and less pricey facial rejuvenation, any new mother is sure to appreciate a jade roller set. Not only is it a natural way to achieve a healthy glow, but it's also incredibly relaxing. What's not to love?
Best Push Presents for a Second Baby
If this is the mother's second child, consider a memento that celebrates both little ones.
Jewelry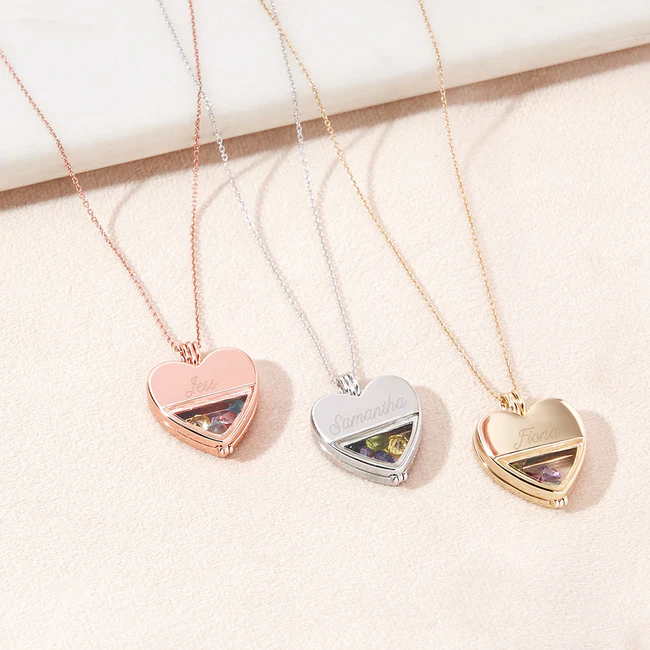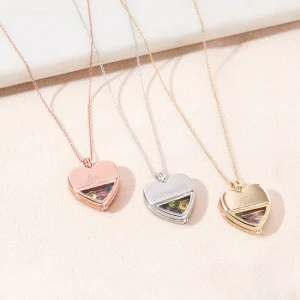 A piece of jewelry that can be personalized with both children's birthstones is a lovely way to commemorate the new baby's arrival. This engravable birthstone locket has a timeless design and can hold a collection of up to 10 different stones. Perfect for giving for the arrival of a 2nd child and many more kids beyond.
Budget Friendly
If you love the idea but not the price tag, check out this DIY floating locket necklace instead.
Art
A personalized piece of artwork is a great way to celebrate the arrival of a new baby while also including the older sibling. This gorgeous wooden star map is a beautiful way to honor the births of both children.
Budget Friendly
For a budget-friendly alternative, a very similar design is available as a printable! Quick and easy!
Push Presents That Give Back
To make your gift extra meaningful, consider purchasing from a company that actively supports women and children. Here are some ideas for jewelry that gives back:
Ethical Jewelry
Choose an Awe Goddess necklace that embodies your partner right now. Athena, the warrior goddess, may be right for her if she had a difficult birth. Erzulie would also be a lovely choice, as she's the goddess of maternal love. Or maybe Selene, the goddess of the moon, would be appropriate during all those night feeds. A portion of all sales go to charities empowering women, and Awe has donated over $700,000.
Another timeless option is this Mama necklace from The Starfish Project. Not only will your new mom love it, but your purchase will provide one month of training for a woman fleeing exploitation.
Budget Friendly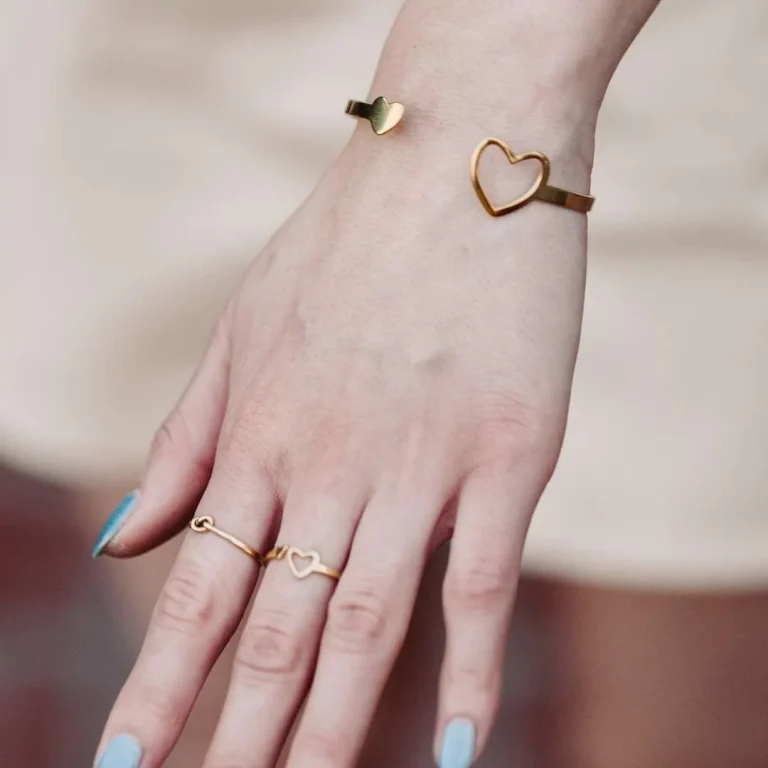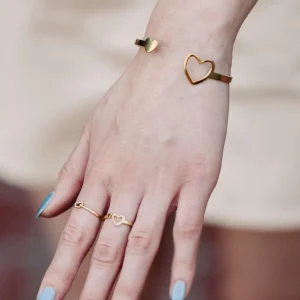 For a budget-friendly option, consider the Miracle Heart Cuff, which features two hearts, one for mom and one for baby. This cuff also supports young women in India, Uganda, Mexico, and the Philippines and is a meaningful way to celebrate the arrival of a little one.
Funny Push Gifts
Inject some humor with these funny gift ideas. They're sure to bring a smile to any new mother's face!
Scented Candle
This stylish aromatherapy candle has a scent that promises to be the opposite of that of dirty diapers.
Tote Bag
This handy tote bag is brilliant for diapers and baby wipes, and the funny slogan will make parents laugh.
Budget Friendly
For an inexpensive gag, go for this mom's turn/dad's turn coin. A light-hearted way to decide who's getting up for the next night's feed!
FAQs
Still undecided? Here's a little more about the background and etiquette surrounding push gifts and why you might want to give one.
What is a Push Present?
A push present, also known as a push gift or push-out gift, is something given to a mother to celebrate her giving birth. Unlike baby shower gifts, which are usually things that'll be used by the baby, like clothing, muslins, or toys, push presents are exclusively for the mother's enjoyment.
Who Gives Push Gifts?
Traditionally, the mother's partner or the baby's father is the one to give the push gift. However, sometimes a friend or close family member may also feel they want to do something to treat the new mom.
Are Push Presents Really a Thing?
Partly because of the cheesy name, many question whether push presents are even a thing. Surprisingly, the tradition began in India and has existed for hundreds of years. However, it only became popular around 2010, thanks to celebrities and social media. 
What Are Some Famous Push Presents?
Some of the world's most expensive push gifts have been given to celebrities. For example, Jennifer Lopez received a $2.5 million set of diamond earrings and a ring; Kylie Jenner was given a $1.4 million Ferrari; and Kim Kardashian famously received a $1 million diamond choker.
How Much Should You Spend on a Push Gift?
No push present needs to be as extravagant as those given to celebs and should never put you into debt. Rather than spending millions of dollars, a more realistic budget lies somewhere between $25 and $300, depending on your financial situation. 
Are Push Presents Common?
According to surveys, just under half of new mothers receive push gifts, while just over half would like one. So, while they're not essential, they're usually appreciated.